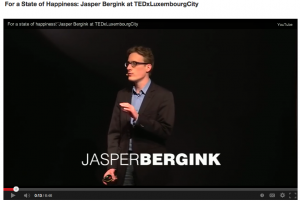 One of the great powers of the brain: Imagination.
According to  Jasper Bergink, imagination is a force that can both have a positive and a negative effect on our happiness. On the positive side, our possibilities to foresee what the future could be like help us to set goals and ambitions and realise a brighter, happier future. But there is a catch. If our expectations are too high, the reality of our daily life is nothing but a pale reflection of your colourful imagination. This is crucial. When we get something new – say a job or a car – we compare our life with the situation we had before. If our old car was slow and ugly, we're better off with a new one.
But we also compared with what we imagined.
Turning bad things in good ones is possible.
"A Little Dose of Happiness" is Jasper Bergink's newsletter of For A State of Happiness. (Visit the site to subscribe or Send an email to jasper -at- forastateofhappiness.com)