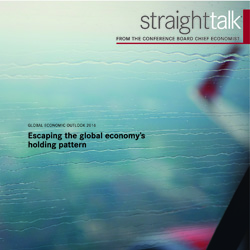 The global economy remains in a holding pattern, with weak productivity, slow growth of the global labor force, and slow investment growth working against a technology revolution that has already been slow to pay off. Mature economies remain constrained by deflationary pressures. Emerging markets will continue on their descending flight path—however many will still be growing faster than most mature economies.
Quantitative easing, a low euro, and cheap oil provide modest upsides for an otherwise sluggish European economy. The Conference Board Leading Economic Index® for the Euro Area indicates that growth for the coming months is likely to continue to be sluggish, even though other forecasters are becoming more optimistic. Lower oil prices have pushed the Euro Area into deflation, but core inflation rates remain stable. The continued disinflationary environment has led the European Central Bank to launch a large program of quantitative easing of at least 1.1 trillion euro, which includes government bond purchasing for the first time. The sluggish labor market, together with stalling consumer confidence, will slow domestic demand, despite lower oil prices. However, the depreciation of the euro provides an upside to European exports. It is starting to boost growth in new orders for capital goods.
We project a modest improvement in the global economy growth rate to 2.8 percent in 2016, up from 2.5 percent in 2015. There are, of course, geographic variations, which we detail in eight regional sections. And there are still growth opportunities for investors, thanks to high liquidity and low interest rates.
In 2016, the global economy will stay on a slow growth track for the fifth consecutive year, and that seems unlikely to change in the near future. We project a very modest improvement in the global economy growth rate to 2.8 percent in 2016, up from 2.5 percent in 2015, and a slight further improvement to 3.1 percent globally for the period 2016–2020. But multinational companies need to reassess their opportunities in an economy this slow, with mature economies continuing to fly at a low altitude and emerging markets continuing on their descending flight path.
Smaller labor supply slows economic growth. To offset this, labor productivity will be the most important tool. This productivity will mainly come from investments in innovation and new technology. But to see results, organizations will need to make the most of their human capital:
Using SWP on a global scale, identify where labor shortages may occur over the next ten years
Retain skilled employees, encourage and facilitate the transfer of knowledge through training, phased retirement for veteran employees, among other strategies
Move the work to where the workers are: select production and sales locations according to the geographic areas with larger workforce availability
In addition, most mature and even several emerging economies will be facing serious shortages in workers, and not just in the most skilled occupations. Tighter labor markets around the world will result, which in turn will put upward pressure on labor costs. To stay competitive, companies need to strategize to mitigate those costs.
Will recovery from the global economic and financial crisis continue?
With slowing growth in emerging markets and lackluster growth in mature economies, CFOs should prepare for increasing costs, especially labor costs. But there is a silver lining to this cloudy forecast: high liquidity and low interest mean there are strong upsides to thoughtful investments. Making productivity a core business strategy can offset some negatives. And even when slowing, emerging markets will continue to grow faster than most mature economies, while receiving growth impulses from their rising middle classes. To find growth opportunities, CFOs will need to target specific regions and consumer categories and keep an eye on new and developing trade deals. 
What do extended tight labor markets amidst slow economic growth mean for CHROs? For the foreseeable future, CHROs are likely to be operating in an environment of weakening corporate profits and low productivity growth. They will be feeling the pressure to acquire, retain, and develop the kind of talent that drives business forward while keeping the costs of that talent as low as possible in a period of faster compensation growth. In the first extended tight labor market in at least 15 years, CHROs will have to be focused and creative about looking for talent in new places.
Bart van Ark explains in this CEB Insight Minute