The World Happiness Report is a landmark survey of the state of global happiness.
The first report was published in 2012, the second in 2013, and the third in 2015. The World Happiness Report 2016 Update, which ranks 156 countries by their happiness levels, was released and leading experts across fields – economics, psychology, survey analysis, national statistics, health, public policy and more – describe how measurements of well-being can be used effectively to assess the progress of nations. The reports review the state of happiness in the world today and show how the new science of happiness explains personal and national variations in happiness. They reflect a new worldwide demand for more attention to happiness as a criteria for government policy.
According to Annie Quick, this year's World Happiness Report featured a section on inequality in happiness, but just as one can talk about the inequality of income, one can also look at inequalities in happiness if we want to increase the wellbeing of the worst off, fastest.
So how are we doing on happiness inequality?
Between the periods 2005-2007 and 2013-15, happiness inequality increased within most countries, in almost all regions and for the world as a whole.The UK has seen no significant change – happiness inequality isn't getting worse, but nor is it getting better. We're the 46th most equal country out of 157 when it comes to happiness.
Perhaps if average happiness were increasing at the same time, rising inequality might be a price worth paying. But such an increase is hard to find.
The authors don't report changes in the world average, but they do tell us that between the periods 2005-2007, and 2013-2015, 43% of countries saw a decrease in average happiness compared to just 20% seeing an increase.
The reasons for these worsening trends will of course differ between regions and countries, as will the solutions to reducing them.
But why is it happening?
The global economic crash in 2008 no doubt explains part of these trends, but simple economic output certainly can't tell the whole story.
While global GDP growth might have slowed, GDP itself has continued to grow over the same period, with a relatively short blip in 2009.
So if the answer to happiness was simply an increase in consumption, the world should have become happier.
More likely are explanations of how countries dealt with the crash. Greece, on the other hand, is a prime example of the devastating effects of austerity. It's seen the largest fall in average wellbeing of any country in the world, alongside one of the largest increases in happiness inequality.
To get a better grasp, Jasper Bergink puts into perspective the World Happiness Report 2015.
The 2015 World Happiness Report came out with a large ambition: influencing the next development goals and ultimately increasing human happiness and its fair distribution should be the goal of public policy.
As the UN prepares to adopt Sustainable Development Goals (SDGs) to succeed the Millennium Development Goals (MDGs) this year, the hope is that happiness outcomes are targeted within the SDGs.
Number one this year is Switzerland, Denmark ranks one in most happy ones and Togo came last.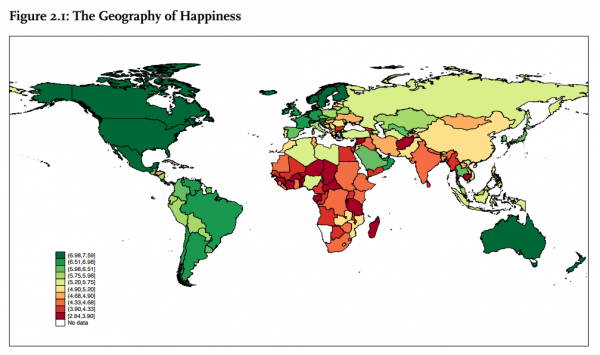 The good news: how happy are we?
Of 130 countries where it was possible to compare data from 2012-2014 with 2005-2007, 53 saw significant improvements in happiness levels (41 decreased and 36 had no meaningful change). This suggests the world is a slightly happier place then it used to be.
The biggest improvements were made in Nicaragua, Zimbabwe, Ecuador, Moldova and Sierra Leone, who each added around one full point in their score.
The top-1o: Iceland, Denmark, Norway, Canada, Finland, Netherlands, Sweden, New Zealand, and Australia, all a solid 7.3 or higher and the number one Switzerland at 7.587.
The most important sections maybe are not those listing the countries, but providing case studies of cities and regions who have changed their policies to make use of all the knowledge about happiness, from Dubai to Jalisco (Mexico), and from Santa Monica to Bristol.
At the same time, progress is also made in the neuroscience of happiness. A dedicated chapter 5 summarizes some of the findings. For instance, evidence about the link between positive emotions and happiness appears to be stronger and stronger.
There is more and more understanding about the various distribution patterns of happiness within age groups and genders. Overall, women are slightly happier than men. Over age groups, the patterns differ per region: in Central and Eastern Europe, Central Asia and South Asia, happiness goes down as age progresses. But in East Asia, but also in Western Europe, the best comes last: happiness levels go up as people enter their 70s.
The bad news
More than fifty countries have happiness levels below 5. And the worst-performing are truly miserable. Countries like Syria and Afghanistan, but also Rwanda, Benin and Burundi fall under 3.6 The lowest level is found in Togo at 2.839.
Two countries on different sides of the Mediterranean – Egypt and Greece – have lost more than one point. The case of Italy (-.764, now at 5.948) is worrying. Usually, a high happiness level means a high level of resilience in phase of challenge. This fabric might be unraveled as result of the crisis Italy is going through.
One concern: the SDG process appears to be very complex, with over 150 different – and often, vague – ideas currently on the list of goals that could be adopted later this year. In such a process, they risk to lose their meaning. But either way, the wealth of statistics provides a lot of inspiration and background data to policy makers to make the world a happier place.
Annie Quick Wellbeing Researcher annie.quick@neweconomics.org
"A Little Dose of Happiness" is Jasper Bergink's newsletter of For A State of Happiness. (Visit the site to subscribe or Send an email to jasper -at- forastateofhappiness.com)